Sensei translations are available as language packs that can be installed from your dashboard.
For details of how to see which languages are available and how to install them, see Sensei in Your Language.
Translating Sensei
If there isn't a language pack available for your chosen language, or the translation for your language is incomplete, you can do the translation yourself.
Translating via Transifex
To begin, go to https://www.transifex.com/ and create a free account.
Once your account is verified, go to the Sensei project at: https://www.transifex.com/woothemes/sensei-by-woothemes/
If you want to continue translating one of the incomplete languages in the list, click the Join Team button:

Then select your language, and click Join: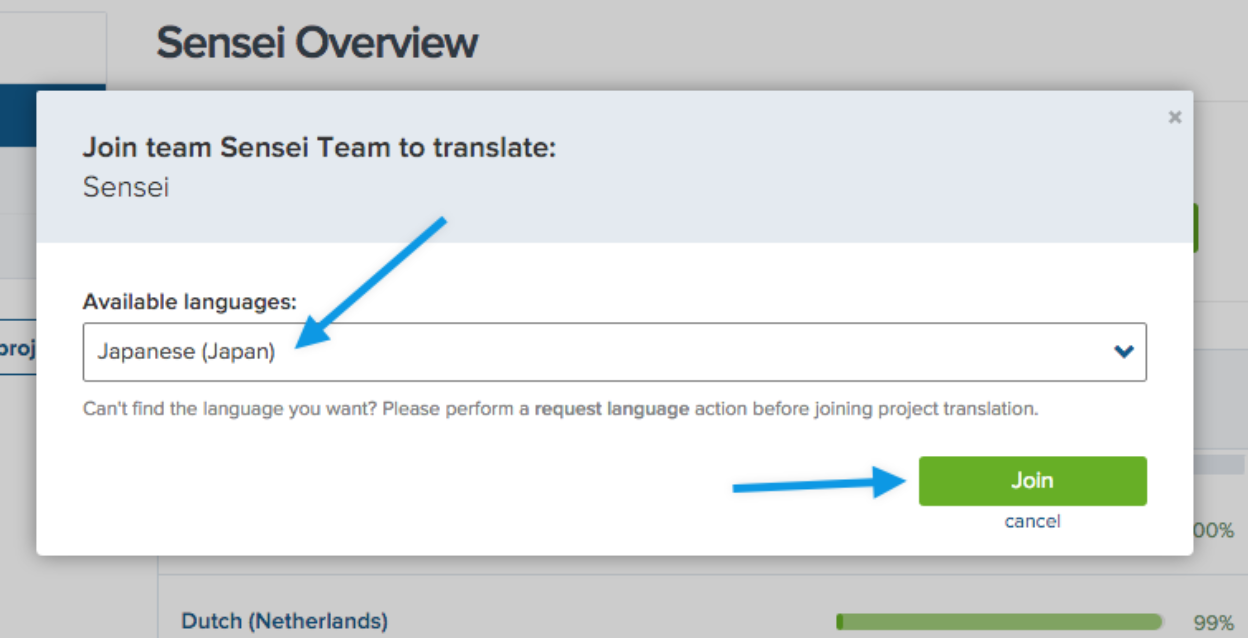 Note: If your chosen language isn't on the list, request that language: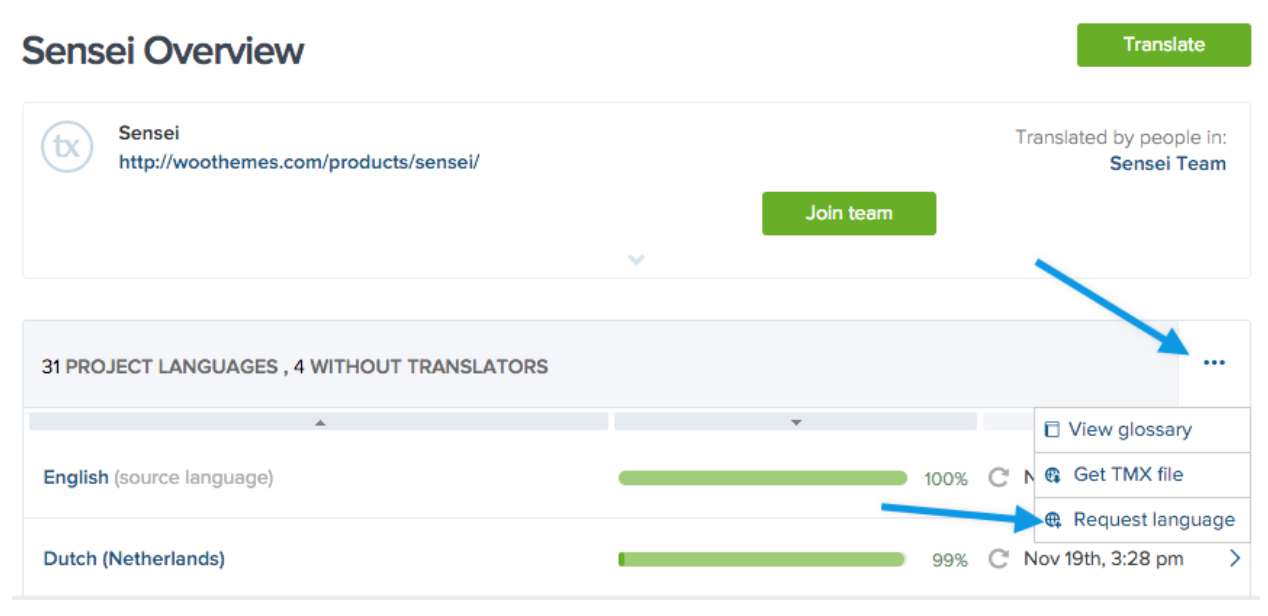 Once your requested language has been approved (usually within 2 working days), you can proceed.
Click the Translate button:

Choose your language from the dropdown:

Select the woothemes-sensei.pot resource:

Start translating. Click each untranslated string on the left, and type your translation in the box on the right, and click Save: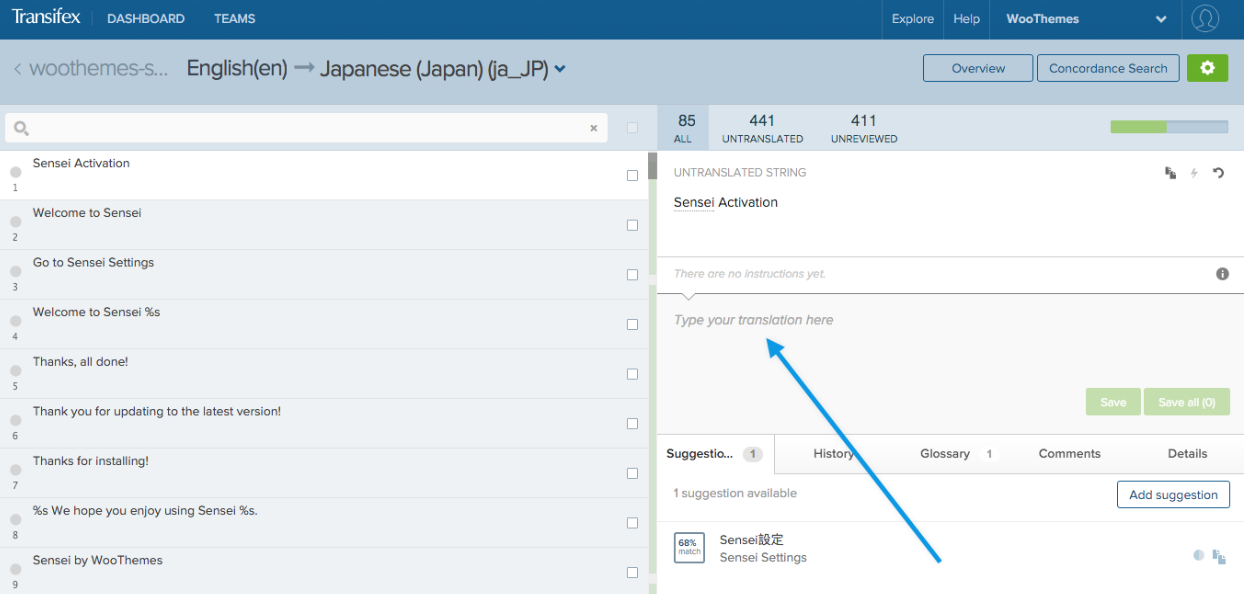 For more details on using the Transifex Editor, see the official Transifex documentation.
Using the translation on your site
Your completed translations will be included in the next language pack update, which will coincide with the next Sensei update. If you want to use translations in the meantime, download and install them on your site manually.
To download the language file, go to https://www.transifex.com/woothemes/sensei-by-woothemes/ and click on your chosen language:

Click on the row containing the .pot file:
Click Download for Use, and save the file to your computer: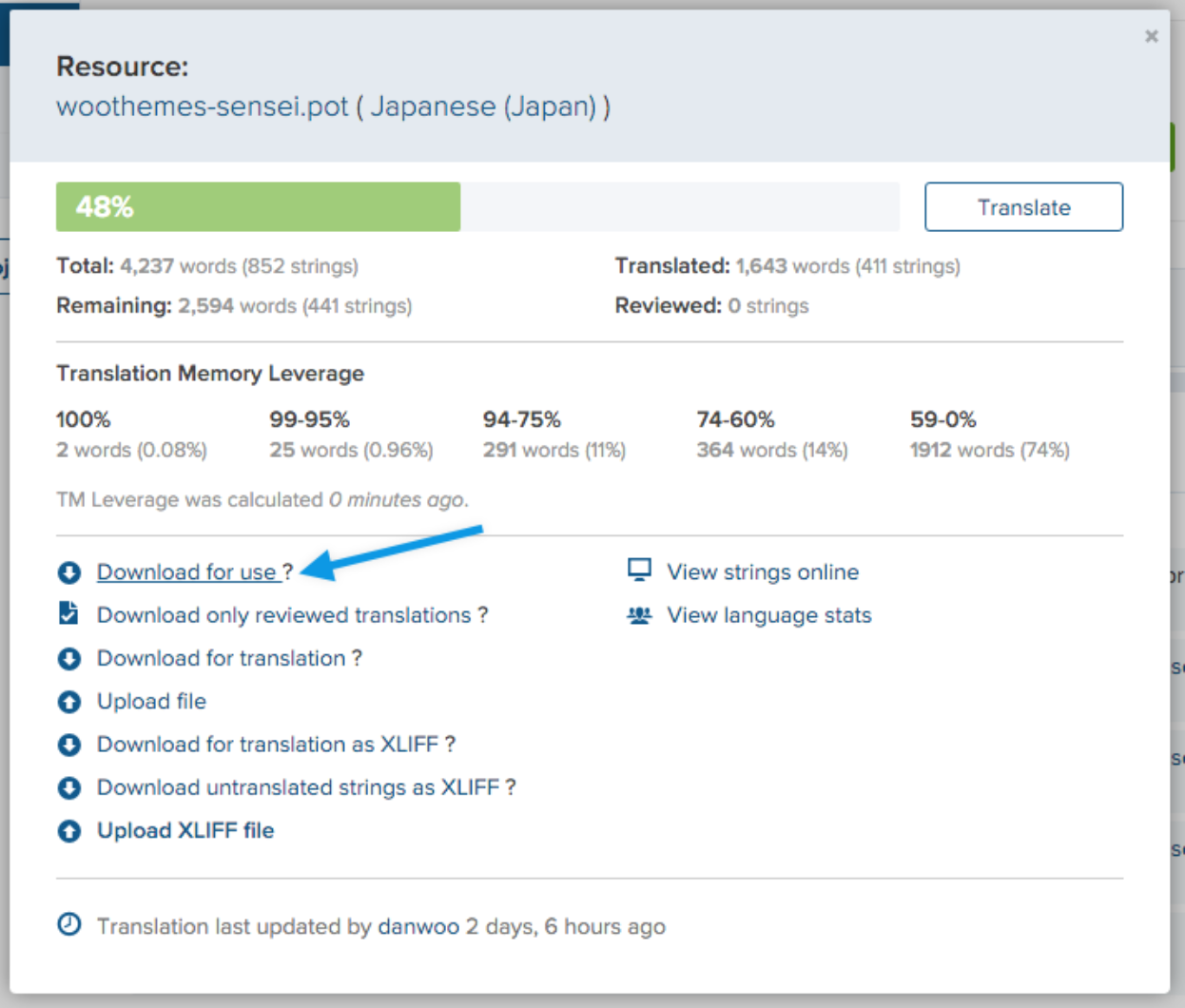 The file will be named something like "for_use_sensei-by-woothemes_woothemes-sensei_ja_JP.po"
You should rename this to "woothemes-sensei-ja_JP.po"
Upload this file to your website in the /wp-content/languages/plugins/ folder.
For the translations to work, the .po file you uploaded needs to be compiled to a .mo file. You need to install a plugin to do this.
We recommend the free Loco Translate plugin.
Go to Plugins > Add New, search for Loco Translate, then install and activate.
Go to Loco Translate > Manage Translations and look for Sensei in the list of plugins.
Loco Translate should recognize the .po file you uploaded so you should see your language in the list. Click on it.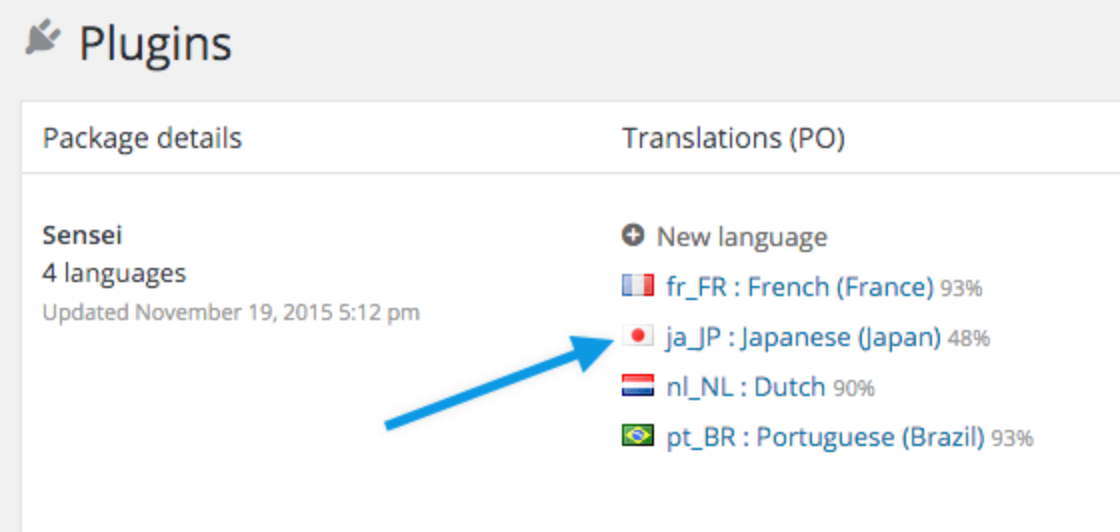 4. Click Save.

This compiles your .po file into a .mo file:

If you switch to your chosen language in Settings > General > Site Language, your translated Sensei strings can be seen.